By Christine Chew
Bullying does not stop no matter what age, which holds true to 68-year-old Karen Klein. In June 2012, Klein was doing her job as bus monitor for Greece Athena Middle School in upstate New York. Bus monitors are required to make sure students are safely seated while the bus is in motion, maintain order among the students, and ensure each child is released at the correct stop to the proper guardian. However, a 10-minute video of four boys tormenting Klein was captured on a cellphone and went viral on YouTube.
The boys in the video constantly call her "fat-ass," "ugly," and "old-ass," and vulgarly remarked, "If I stick a knife in you, it'd go through you like butter because you're so fat." Then they proceeded to poke her sides and slap her arm. Klein did not retaliate except asking, "If you don't have anything nice to say, don't say anything at all." Immediately, the boys shouted, "How about you shut the [explicit] up!" When Klein started to cry, the bullies pointed out, "Look at her sweating. Karen, why do you have sweat on your face?" After she answered, "I'm crying," the bullies did not stop and the last verbal attack they made before the video ended was "You don't have a family because they all killed themselves because they don't want to be near you."
Video footage screenshots of Karen Klein sitting in her seat.
Klein is a widow after losing her husband in the war, and her son had committed suicide ten years ago. Whether or not the boys were aware of this is unclear. It is also uncertain how long she has been bullied, but Klein claims she has had her hearing aid knocked out by the same students in the past. She has spent 20 years working as a bus driver and the last three years as a bus monitor.
After the video circulated online, overwhelming support from all over the world surrounded the victim. The father of the boy who made the comments personally visited Klein and apologized, "I'm sorry. I made my son watch the whole video and he cried about it. This is a lesson he's going to remember and he won't treat anyone like this again." Max Sidorov, a nutritionist from Toronto and a victim of bullying in the past, started a campaign to raise $5,000 for Klein so she could go on vacation. After a month, a total of $703,873 was collected. Disneyland Resort also presented to her a three-day vacation and Southwest Airlines agreed to pay for her ticket.
Although Klein is extremely delighted to see so much support, the tables have turned against the four boys. Captain Steve Chatterton of Greece Police Department comments, "When someone watches the video, there's not going to be a lot of remorse for the children but they have received death threats and we have custody of one of the kids' cellphone and he has received thousands of missed calls and texts threatening him. I mean, he's only 13-years-old."
Klein does not want to press charges against the boys and only asks for an apology from them. Despite the tremendous amount of emotional and financial support she has received, Klein has decided to keep her bus monitor position, which pays $15,506 a year, and requested a new bus route. Her plan is to donate the proceeds to the "7 Million Acts of Love" campaign, also started by Sidorov. Their goal is to raise $7 million to help provide free counseling for bullied children and support a nonprofit television series and social website devoted to featuring other acts of kindness and charities. Klein remarks, "I want to thank everyone and now maybe, I can help others. I'm real excited to be supporting this campaign." To learn more about this anti-bullying campaign, visit http://www.indiegogo.com/7million.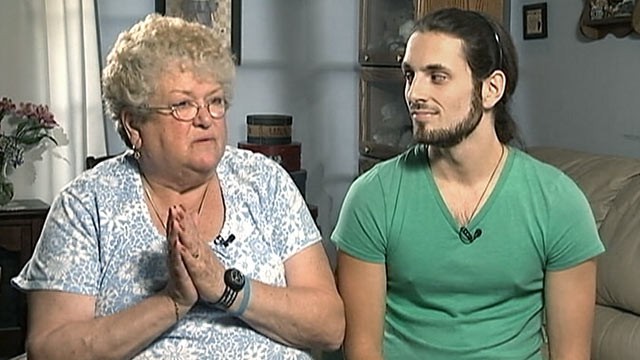 Karen Klein and Max Sidorov discuss plans for the 7 Million Acts of Love campaign to stop bullying.