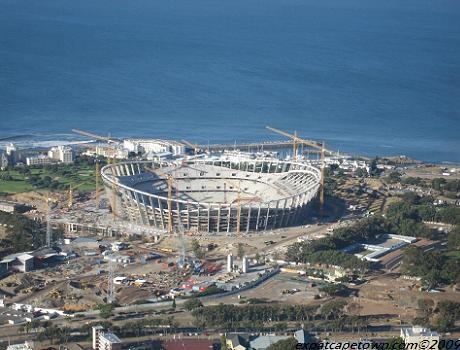 Freedom Day celebrations kicked off in the South African capital of Pretoria last Tuesday, where thousands gathered at the Union Buildings as the country commemorated the sixteen year anniversary of the first democratic election on April 27, 1994. Political leaders from all over the country, and from all major political parties, are calling on the people of South Africa to look ahead with hope to an ever improving democratic nation. As recorded in a recent Cape Times article, Democratic Alliance parliamentary leader Athol Trollip told South Africans during the Freedom Day celebration that the country could not afford to de-generate as many other post-colonial African countries had. "We must protect the South African miracle," he said.
Many South African citizens and politicians are hopeful that the FIFA World Cup, hosted in South Africa in the summer of 2010, is the key to the future success of the country. "Let's make sure we raise the flag, that we sing the national anthem... let's spread the message that today is better than yesterday, tomorrow will be better than today," Gauteng Premier Nomvula Mokonyane said.
Many US citizens, and citizens of the global community, have long dismissed South Africa as a country either flourishing in their new democratic system, or hopelessly buried under a history of racism and oppression. In reality, the country is at neither of these extremes, but is caught in a political no man's land between turmoil and triumph. While the new democratic government has allowed for much progress in the area of human rights, many other issues, like public safety, health care reform, and education are falling by the wayside, in desperate need of attention by local, provincial and national governments.
If the FIFA World Cup 2010 tournament in South Africa is now giving much needed hope to a country that overcame Apartheid just sixteen short years ago, then what is this nation missing? With a triumph over racism and a new democratic government, how is it possible that South Africa is still waiting for confirmation from the outside world that they are, as Athol Trollip says, "a miracle"? Some might say that the HIV/AIDS epidemic in South Africa, and the political backlash from related health care reforms have prevented the nation from rising to an expected level of progress. Political leaders have also accused opposition parties of preventing progress by remaining partisan on national issues, which perpetuates racial and cultural divides as remnants of Apartheid South Africa. With the widespread nostalgia of former Apartheid supporters and the frustration of dissatisfied progressive activists, it's no wonder that the FIFA World Cup is being touted as a solution to the South African progress slump.
South Africa, since the fall of Apartheid, has made enormous progress toward democracy in the arena of human rights equality. The HIV/AIDS epidemic, a problem which was alternately ignored or demonized for decades is now the focus of public policy, healthcare reforms and university and hospital research. An education system that was long segregated has been improved greatly by integration and the implementation of strict guidelines for testing and passing grade levels.
Education reform, a priority in theory, is in practice a struggling system. Teachers are now required to take the same tests as their students, in the hopes that this will increase the level of competency among educators. While this new policy is an attempt to narrow the gap between expected qualifications and real world deficiencies, there are few incentives for under qualified teachers to go back to school. Until those formerly segregated teachers, many of whom had reached the career glass ceiling under Apartheid, are given the opportunity to improve their educations, the system will continue to fail. On the Western Cape, home to some of the best schools in South Africa, the Democratic Alliance party is celebrating a pass rate increase from 14% to 17% for middle-school age students. The DA understands that this percentage is dismal, but with the state of education in South Africa, every increase is critical.
In the realm of healthcare, small steps must also be applauded. Everyone in South Africa is guaranteed health care. In theory, this is an ideal strategy. But HIV medication is exponentially more expensive than most South Africans can afford, as are the health care support and resources required for the successful treatment of HIV/AIDS. And with the wide range of other health issues that are associated with HIV/AIDS, like Tuberculosis and mother-to-child transmission, the health care system is understandably overwhelmed and underprepared. One HIV/TB patient at Brooklyn Chest Hospital, a Cape Town hospital that treats HIV/AIDS patients suffering from Tuberculosis and other lung diseases, said of her treatment there: "I waited six weeks for a bed in this hospital. When I was called away to attend a funeral in my home town, the next person on the waiting list was given my bed. I had to wait another month to be readmitted." The problem of limited capacity is just one of many preventing hospital and clinic patients from receiving the care they need, especially in rural areas where patients must travel long distances for treatment and prescriptions.
With the fall of Apartheid, human rights have become a major area of reform in South Africa, where politicians are trying to make up for a half century of segregation and oppression with new policies. The Truth and Reconciliation Commission, established in the mid-nineties to deal with gross human rights violations, was one such policy. More recently, the less obvious remnants of Apartheid are being dismantled piecemeal. One new item of legislation is calling to change Afrikaans street and building names from racist terms to more inclusive and genial ones. Some argue that the racist names are a part of South African history, and shouldn't be changed. Others, from the liberal political parties and formerly oppressed groups, feel that these names are degrading to black and colored populations, and believe that keeping the Afrikaans names will perpetuate a separatist mentality in South Africa. Whether the names are changed is still up for debate, and with so many nostalgic white South Africans opposing the policy, an official name change will do little to change the attitudes that go hand in hand with racist terminology.
With so many public policies falling short of their goals for social and political reform in the new Democratic South Africa, one might assume there is a shortage of funds for the necessary improvements. Enter: FIFA World Cup 2010.
Hosting the World Cup will set South Africa back much more than initially estimated, with rising costs expected to bring the total for stadium construction to well over the 9.8 billion rand (1.28 billion dollars) budgeted in 2009, which was up from the 6.7 billion rand South Africa initially agreed to spend when it won the right to host the tournament back in 2004. For the extra money, the nine host cities will have to look not only to the government but also to the African Development Bank for low-interest loans, said Jabu Moleketi, deputy finance minister and a member of the World Cup Local Organizing Committee, in a recent article. Much of this money has been spent over the last few years to build five new soccer stadiums, and to make structural and aesthetic improvements to five other existing venues across the country. In addition, host cities are implementing complex infrastructure improvements such as new roads and highways, city beautification projects and larger police and maintenance crews.
Billions are being spent on improvements meant only to benefit South African soccer fans and international tourists, while areas like healthcare, education and human rights are being all but ignored. The money spent in preparation for the FIFA World Cup 2010 could be allocated to more productive and long term solutions to the problems facing South Africa today. Instead, by summer's end, the country will have beautiful roads but fewer jobs; state of the art soccer stadiums but no new healthcare reform; a booming tourist economy but failing educational standards. When the World Cup dust settles, South Africa will be no closer to the progressive democratic national improvements on which sixteen years have been spent. And those citizens hoping that this international event will provide South Africa with much needed revenue will realize, too late, that the FIFA World Cup 2010 is not enough. Contrary to Gauteng Premier Nomvula Mokonyane's positive outlook, while this event has made "today better than yesterday", when the World Cup is over, tomorrow will be worse than today.