Dinner and a movie has held its reputation as the perfect date-night pair for decades. Classic and romantic, simple and casual, the ritual of light conversation over dinner and holding hands in the theater feels timeless. But there are variations on the theme: there are choices of where and what to eat, what to see, where to see it. Tucked away from the chaos of Boston nightlife is Davis Square in Somerville. In Davis Square the trees are covered with Christmas lights, there are a handful of small, quaint restaurants with diverse menus, and right next door to the T stop stands Somerville Theater, complete with classic neon sign illuminating its current movie selections.
Davis Square is shaped by its curving roads that separate areas into small urban islands. At the heart of Davis there is a pseudo-park with benches and scattered trees, an oasis inhabited by two friendly bronze statues of a man and a woman in mid conversation. Walk signals and crosswalks act as guideposts, helping visitors navigate as they peruse the square and survey restaurant options.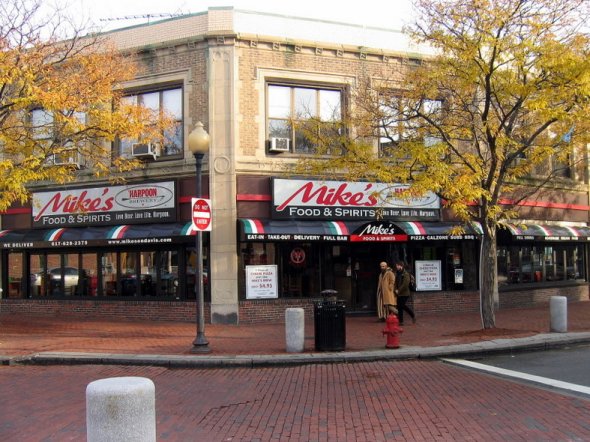 For dinner, Mike's is a casual option. Patrons order at the counter and seat themselves. Across the street from the Somerville Theater and in the center of Davis Square, one of the standout features of Mike's is its large windows, perfect for people-watching. The restaurant is often crowded in the evening and the noise-level high, making it best suited to couples with twenty minutes to spare before show time, looking to grab a quick slice of pizza and bottle of beer. They specialize in the standard Italian-American options, like eggplant parmesan and spaghetti and meatballs, with reasonable prices and large portions.
Mr. Crepe is conveniently located next door to the Somerville Theater. Dimly lit with small tables, the café's atmosphere is well-suited to diners on a date, looking for quiet conversation over plates of creative crepes. The crepes run the spectrum from sweet to savory and light to hearty; they are filled with brie, fresh sliced apples and grapes, or Nutella, banana and toasted almonds, or roasted mushrooms with fresh thyme. There are more dinner appropriate crepes as well, such as the Super Lamb filled with Merguez – a spicy north African lamb sausage – and roasted bell peppers, caramelized onions, spinach, basil and herbed feta goat cheese.
After dinner comes the movie. The Somerville Theater has a smaller selection of movies, characteristic of most
independent theaters, and also the same characteristic lower ticket prices. Tickets for an evening show are eight dollars. The theater has four cinemas including its original 1914 auditorium, restored to mirror its former glory. Events and concerts are often held here in addition to movies. For concessions, the theater offers candy and fresh popcorn with real butter, soda, tea, wine and Harpoon beer.
A surprise hides in the basement of the Somerville Theater, providing the chance for deviation from the traditional dinner and a movie experience. Included with th
e purchase of a movie ticket is admission to a collection of art displayed in a small hallway that the theater calls the Museum of Bad Art. MOBA is dedicated to the collection, preservation, and exhibition of bad art. They insist that all pieces must be the result of a serious attempt to make an artistic statement. Though art is often subjective, there is no room for argument here: each painting, statue, and installation generates sincere, deep hearty laughter. One standout piece is "Sunday on the Pot with George," an acrylic on canvas. "George" is a portrait done in pointillist technique (using small, distinct dots of pure color to form an image) of an older man sitting on a toilet in his underwear.
And what could follow "George?" The Burren might be the right place to grab a few drinks and discuss what exactly qualifies as art. The Irish pub has a little under twenty beers on tap, including local brews as well as the standard selection of bottled beer. But it might also be time to call it a night, venture home and sleep soundly in the knowledge that with the help of Davis Square, the tradition of dinner and a movie continues on.